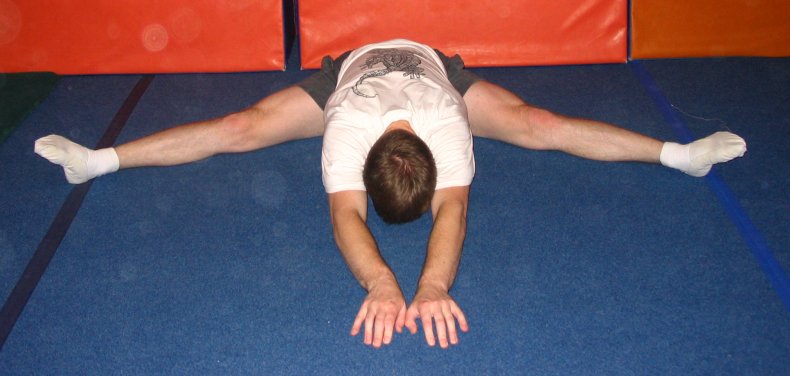 So we are constantly reminding you all to keep working on your mobility. We tell you to stretch and move at the end of your workouts. We lead mobility sessions at the end of class when we have time in the programming. I can not stress how important it is to be disciplined about this. I am not naturally flexible. I've relayed this to many of you, but if you weren't aware you might be surprised that at one time I couldn't even come close to touching my toes. It took a lot of work for me to get flexible. If I don't stretch regularly I loose quite a bit of mobility. It will never go back to the limited flexibility that I once experienced even if I don't work at it because I have changed my base mobility. For me it took stretching 5 times/day for about 6 weeks to radically change my flexibility. It isn't necessary to stretch that frequently to gain mobility, but it certainly goes faster that way. I had additional motivation to get flexible quickly due to collegiate competition.
There are a lot of resources on mobility. Read PNF Stretching from my DrillsAndSkills website as well as reviewing the catalog of stretches found there. Be sure to take the time to stretch. After workout is best. If you can find time at home, or elsewhere to stretch do so. Additional mobility will improve your performance and in some cases will enable you to perform movements you couldn't do at all otherwise.
If you were not aware we are starting a mobility class. Our first sessions start Wed 8/1 at 10am. Be sure to check out these classes and drop on in. Your mobility is important. It will help in many aspects of life. Similar to how you discover great things about how you can feel when you make certain dietary adjustments, you will discover that certain things are just easier and more comfortable if you are more flexible. The new mobility classes will be a combination of yoga and other mobility techniques, designed with our programming in mind to optimize efficacy. See you in mobility class.